In our first few meetings, it became clear that the majority of folks in our cohort belong to collectives in which they organize their farming, food, and land stewardship work. There is internal resonance in our cohort that farming in worker co-op and collective models makes for more resilient and sustainable farming. In discussing points of stress for QTBIPOC farmers, we identified needing support in learning how to resolve conflict in collective spaces. Most mediation resources that exist for farmers are tailored towards conflicts that come up in traditional farm businesses. We recognize a unique need for learning tools that are tailored towards collectives, and collectives of queer and trans people of color in particular. Most exciting to our cohort is the idea that we have lived experience from working in collectives that, if shared with others, could contribute to a growing body of knowledge.
the QTBIPOC Cohort team consists of
Kitty Williams
Kitty (they/them) is a Black Queer Farmer and activist from the Bronx. In 2021 They co-founded Iridescent Earth Collective to grow food for mutual aid in the Bronx. Kitty has been a horticultural and farm educator for over a decade centering marginalized folks in mutual aid farming, farm education and food activism. They've also supported the building and rebuilding of community gardens and farms all over the city. They now work full time on Iridescent Earth Collective.
Sajo Jefferson
Sajo (they/them) lives and works in Rhode Island in gardens, growing Afro-diasporic crops for food and seed, on farms, moving and milking dairy cows, and at houses, as a member of Building Circle, a small cooperative construction company. On any given day you can catch them listening to Millenials are Killing Capitalism, attending a few too many book groups, and playing music in their garage.
Saka Gupta
Saka's (they/them) South Asian, Sephardic and white Ashkenazi Jewish roots have guided their earth work. The experiences they hold - of transness, chronic illness, and the desire to belong - inform the ways they organize and move through the world. Saka turned to the land when they began their journey to heal with and for their ancestors and the planet. They have 3 years of experience as a vegetable and herb farmer. They are currently a land steward farming at
Ayni Herb Farm
, skilling up in herbal medicine making, and a consultant for the
Northeast Farmers of Color Land Trust (NEFOC)
.
Kaija Xiao
Kaija (she/her) is a 3rd generation Taiwanese/Chinese-American, farmer, and organizer pursuing projects and research around the topics of food sovereignty, community agriculture, and cooperatives. She currently co-runs Gentle Time Farm, a trans and Asian American led cooperative veggie farm growing East Asian crops for diaspora in New York.
Julia Chang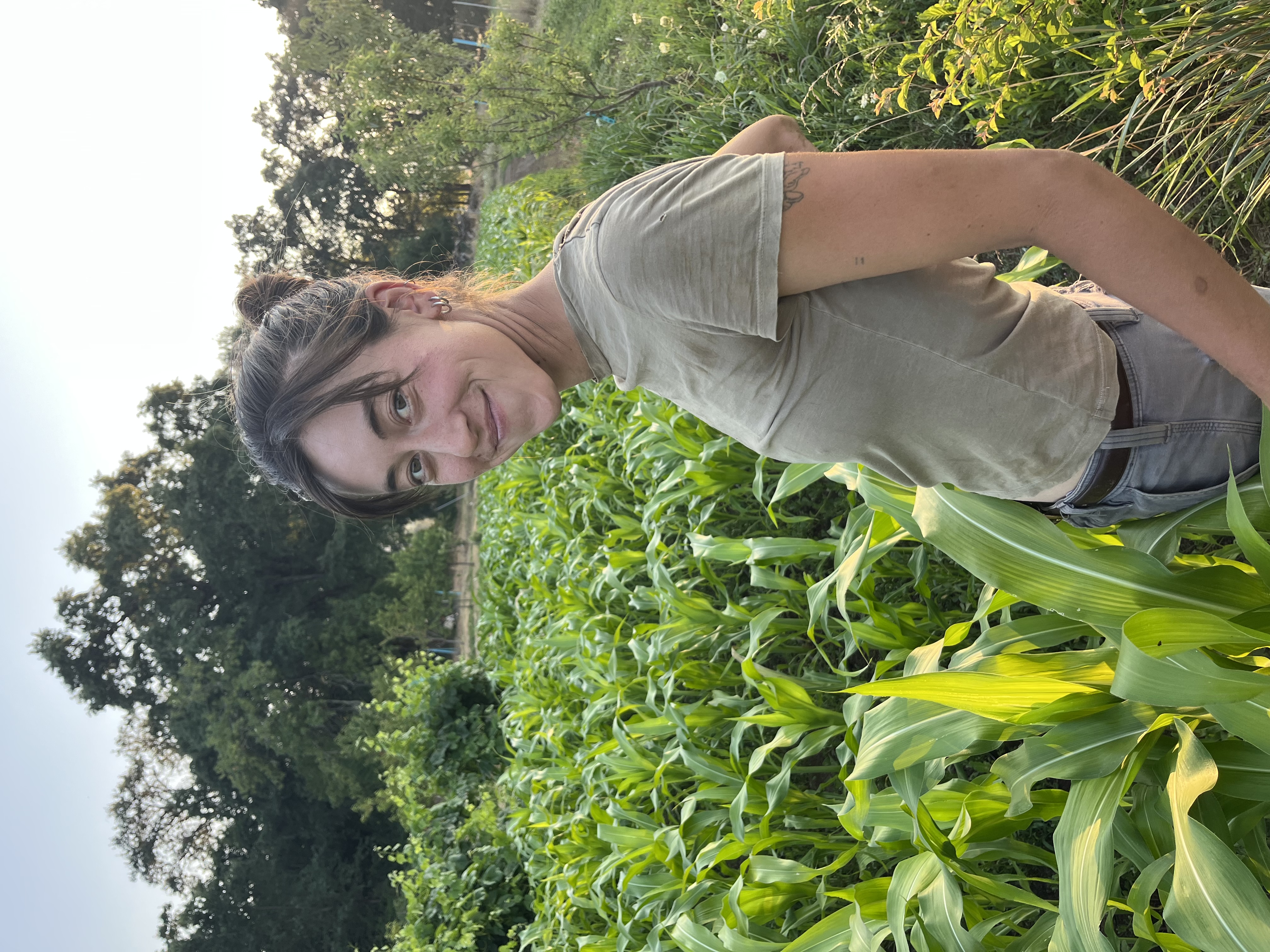 Julia (she/any) farms in Mendocino County of Northern California at a 10-acre seed production farm that specializes in open-pollinated, short season crops adapted for heat tolerance. In past seasons, she grew food in a community garden in Queens; a 2-acre no-till farm in the Blue Ridge Mountains; and a 7-acre mixed vegetable and livestock production farm in Rhode Island. She is a Fellow with Second Generation Seeds, where she works to adapt and preserve Asian heritage seed varieties via agroecological farming techniques and community evaluations. In her life and work she hopes to integrate multiple ways of knowing the earth--including modern scientific, embodied, and ancestral--to support movements for food//land//seed sovereignty.
Lola
Jess Tobón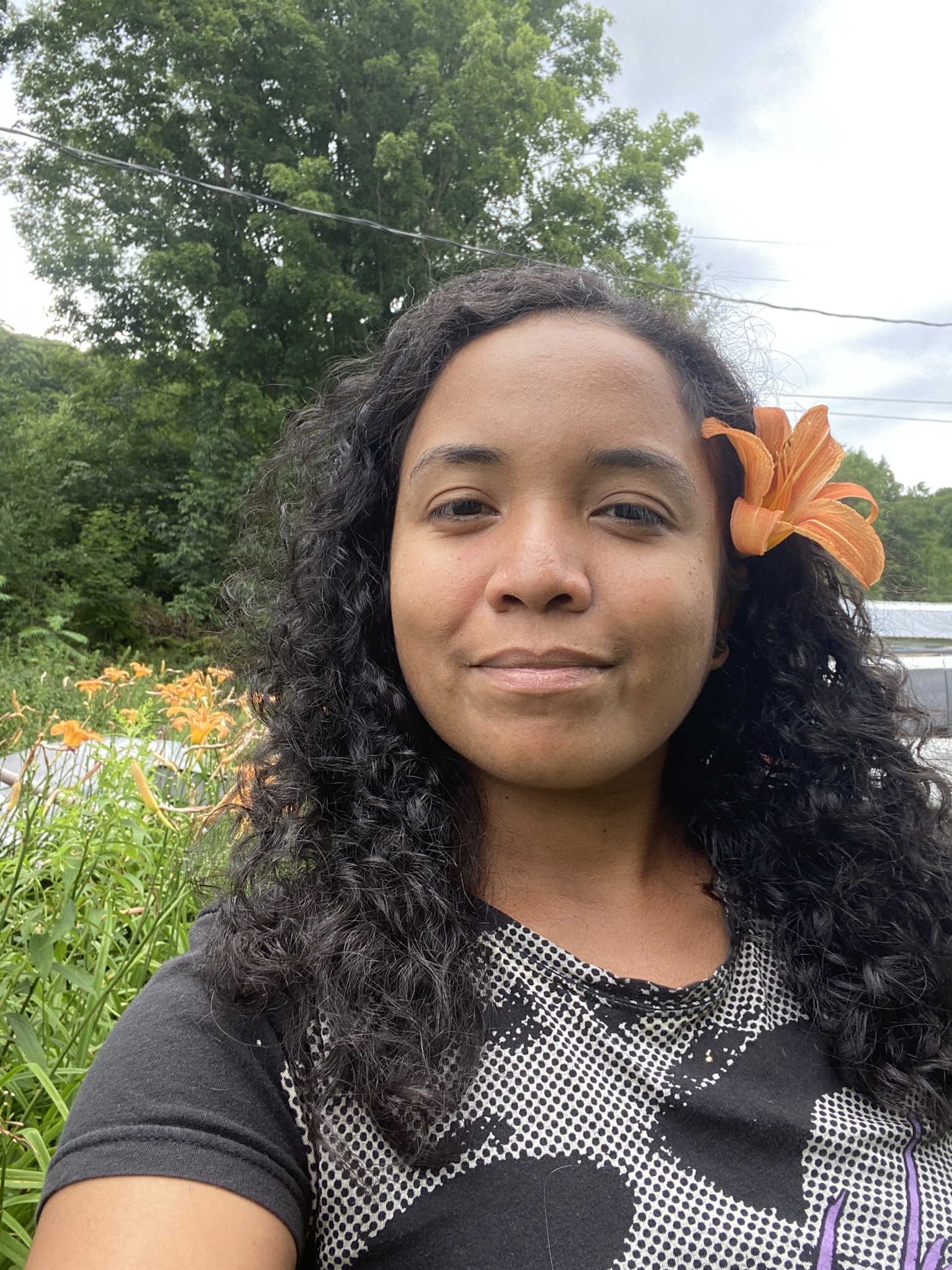 Jessica Tobón (she/they) (ella/elle) is a Colombian-American farmer, compost consultant, educator and roller derby novice. She has 10+ years of experience working at a plant nursery, landscape design company, The New York Botanical Garden and at farms in upstate New York. Her vision is to steward land for food for community and wildlife. In the next few years, she plans to establish a native plant nursery to provide communities with plants for their green spaces. As part of the Land Advocacy Fellowship with the National Young Farmer's Coalition, Jessica advocates to local members of Congress to enact policies providing beginning farmers with resources and secure land access.
Pao
Sea
Sea (they/them) is a diasporican educator, artist, and farmer from the Bronx and co-founder of Iridescent Earth Collective. They have over 10 years of experience in environmental education and 6 years in farming and agricultural education. Sea currently farms full time in the Catskills and likes to spend winters working and learning from community-based farm projects in the US & their home country, Puerto Rico. For now, you'll catch Sea making art for community, raising geese and cattle and connecting with farmers in the region as a NYF Catskills Chapter member. Sea is also working on developing core educational components, experiences and pathways for QTBIPOC farmers to participate and farm on New York State's first agrarian commons; The West Branch Commons.
updated 06/29/2023